Breastfeeding: An Introduction
---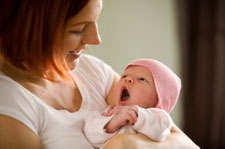 Breastfeeding offers many benefits to both mom and baby. This class will examine these benefits, as well as provide mothers-to-be with the knowledge and support they need to ensure breastfeeding success. Among the topics discussed will be skin-to-skin contact; breast milk production; how to get started; positioning techniques; rooming in; returning to work; breast pumps; community resources, and more. Families are encouraged to attend with mom.
Each class consists of one, two-hour session taught by a registered nurse who is a Board Certified Lactation Consultant.
Preregistration is required and is $50 per family. Grandparents are also welcome to attend with the family.
Instructions for Registrants
Please arrive 15 minutes prior to the posted start time for your class.
If your class is being held at One Cooper Plaza in Camden, please check-in at the welcome desk in the Roberts Pavilion lobby for directions. Free parking is available in the attached garage in addition to free valet service located in front of the Roberts Pavilion lobby entrance.
Please contact Deb Schoch at 856.342.3283 to register.
Upcoming Sessions
---
Cooper University Hospital, One Cooper Plaza, 1st Floor
,
Camden
,
NJ
08103
Monday, Feb. 3, 2020

6:00 pm - 9:00 pm

$50

Monday, Apr. 13, 2020

6:00 pm - 9:00 pm

$50

Thursday, Jun. 18, 2020

6:00 pm - 9:00 pm

$50

Thursday, Aug. 6, 2020

6:00 pm - 9:00 pm

$50

Wednesday, Oct. 21, 2020

6:00 pm - 9:00 pm

$50

Tuesday, Dec. 1, 2020

6:00 pm - 9:00 pm

$50