Qi Gong and Meditation for Cancer Survivors
---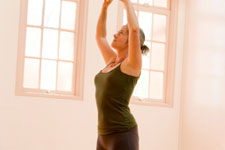 This class combines two very valuable, centuries-old modalities.
Qi Gong uses movement and breath as a way to increase, harness, and move the vital energy that is within and around us. It can increase circulation and relax you.
Meditation incorporates a deeply relaxing practice for the purpose of nurturing and supporting you through life's stresses and joys.
These practices can help you to increase focus, improve balance, and expand flexibility.
Practitioner: Corinne Corcoran, EdD, NCBTMB, ARCB
All Dr. Diane Barton Complementary Medicine Programs are free, but are limited to cancer survivors.
To register, please call Bonnie Mehr at 856.325.6646
Upcoming Sessions
---
931 Centennial Boulevard
,
Voorhees
,
NJ
08043
Tuesday, Mar. 24, 2020

11:00 am - 12:00 pm

FREE

Tuesday, Apr. 21, 2020

11:00 am - 12:00 pm

FREE

Tuesday, May. 19, 2020

11:00 am - 12:00 pm

FREE

Tuesday, Jun. 16, 2020

11:00 am - 12:00 pm

FREE

Tuesday, Jul. 21, 2020

11:00 am - 12:00 pm

FREE

Tuesday, Aug. 18, 2020

11:00 am - 12:00 pm

FREE

Tuesday, Sep. 22, 2020

11:00 am - 12:00 pm

FREE

Tuesday, Oct. 20, 2020

11:00 am - 12:00 pm

FREE

Tuesday, Nov. 17, 2020

11:00 am - 12:00 pm

FREE