Radiation Therapy: What Every Patient Needs to Know
---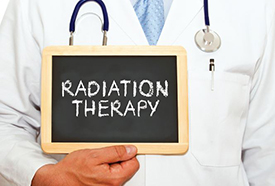 Radiation therapy uses high-energy particles such as X-rays, gamma rays, electron beams, or photons to destroy or damage cancer cells.
Radiation therapy is one of the most common treatments for cancer. It can be given alone or used with other treatments, such as surgery or chemotherapy.
MD Anderson Cancer Center at Cooper invites you to take part in a one-hour class to help you and your caregiver understand radiation therapy. The class will cover:
Understanding the goals of radiation therapy.
Treatment technologies.
Introduction to the radiation therapy care team.
Preparing for your treatment day.
Managing potential side effects.
Patients and caregivers are strongly encouraged to attend this class.
To reserve your seats, we ask that patients and caregivers register individually for this class.
Upcoming Sessions
---
MD Anderson Cancer Center at Cooper-Camden
Two Cooper Plaza, 400 Haddon Avenue
,
Camden
,
NJ
08103
Wednesday, Feb. 19, 2020

2:00 pm - 3:00 pm

FREE
Register Now

Thursday, Feb. 20, 2020

10:00 am - 11:00 am

FREE
Register Now

Wednesday, Feb. 26, 2020

2:00 pm - 3:00 pm

FREE
Register Now

Thursday, Feb. 27, 2020

10:00 am - 11:00 am

FREE
Register Now

Wednesday, Mar. 4, 2020

2:00 pm - 3:00 pm

FREE
Register Now

Wednesday, Mar. 11, 2020

2:00 pm - 3:00 pm

FREE
Register Now

Thursday, Mar. 12, 2020

10:00 am - 11:00 am

FREE
Register Now

Wednesday, Mar. 18, 2020

2:00 pm - 3:00 pm

FREE
Register Now

Thursday, Mar. 19, 2020

10:00 am - 11:00 am

FREE
Register Now

Wednesday, Mar. 25, 2020

2:00 pm - 3:00 pm

FREE
Register Now

Thursday, Mar. 26, 2020

10:00 am - 11:00 am

FREE
Register Now

Wednesday, Apr. 1, 2020

2:00 pm - 3:00 pm

FREE
Register Now

Thursday, Apr. 2, 2020

10:00 am - 11:00 am

FREE
Register Now

Wednesday, Apr. 8, 2020

2:00 pm - 3:00 pm

FREE
Register Now

Thursday, Apr. 9, 2020

10:00 am - 11:00 am

FREE
Register Now

Wednesday, Apr. 15, 2020

2:00 pm - 3:00 pm

FREE
Register Now

Thursday, Apr. 16, 2020

10:00 am - 11:00 am

FREE
Register Now

Wednesday, Apr. 22, 2020

2:00 pm - 3:00 pm

FREE
Register Now

Thursday, Apr. 23, 2020

10:00 am - 11:00 am

FREE
Register Now

Wednesday, Apr. 29, 2020

2:00 pm - 3:00 pm

FREE
Register Now

Thursday, Apr. 30, 2020

10:00 am - 11:00 am

FREE
Register Now

Wednesday, May. 6, 2020

2:00 pm - 3:00 pm

FREE
Register Now

Thursday, May. 7, 2020

10:00 am - 11:00 am

FREE
Register Now

Wednesday, May. 13, 2020

2:00 pm - 3:00 pm

FREE
Register Now

Thursday, May. 14, 2020

10:00 am - 11:00 am

FREE
Register Now

Wednesday, May. 20, 2020

2:00 pm - 3:00 pm

FREE
Register Now

Thursday, May. 21, 2020

10:00 am - 11:00 am

FREE
Register Now

Wednesday, May. 27, 2020

2:00 pm - 3:00 pm

FREE
Register Now

Thursday, May. 28, 2020

10:00 am - 11:00 am

FREE
Register Now

Wednesday, Jun. 3, 2020

2:00 pm - 3:00 pm

FREE
Register Now

Thursday, Jun. 4, 2020

10:00 am - 11:00 am

FREE
Register Now

Wednesday, Jun. 10, 2020

2:00 pm - 3:00 pm

FREE
Register Now

Thursday, Jun. 11, 2020

10:00 am - 11:00 am

FREE
Register Now

Wednesday, Jun. 17, 2020

2:00 pm - 3:00 pm

FREE
Register Now

Thursday, Jun. 18, 2020

10:00 am - 11:00 am

FREE
Register Now

Wednesday, Jun. 24, 2020

2:00 pm - 3:00 pm

FREE
Register Now

Thursday, Jun. 25, 2020

10:00 am - 11:00 am

FREE
Register Now
---
931 Centennial Boulevard
,
Voorhees
,
NJ
08043
Thursday, Feb. 20, 2020

3:30 pm - 4:30 pm

FREE
Register Now

Monday, Feb. 24, 2020

10:00 am - 11:00 am

FREE
Register Now

Thursday, Feb. 27, 2020

3:30 pm - 4:30 pm

FREE
Register Now

Monday, Mar. 2, 2020

10:00 am - 11:00 am

FREE
Register Now

Thursday, Mar. 12, 2020

3:30 pm - 4:30 pm

FREE
Register Now

Monday, Mar. 16, 2020

10:00 am - 11:00 am

FREE
Register Now

Thursday, Mar. 19, 2020

3:30 pm - 4:30 pm

FREE
Register Now

Monday, Mar. 23, 2020

10:00 am - 11:00 am

FREE
Register Now

Thursday, Mar. 26, 2020

3:30 pm - 4:30 pm

FREE
Register Now

Monday, Mar. 30, 2020

10:00 am - 11:00 am

FREE
Register Now

Thursday, Apr. 2, 2020

3:30 pm - 4:30 pm

FREE
Register Now

Monday, Apr. 6, 2020

10:00 am - 11:00 am

FREE
Register Now

Thursday, Apr. 9, 2020

3:30 pm - 4:30 pm

FREE
Register Now

Monday, Apr. 13, 2020

10:00 am - 11:00 am

FREE
Register Now

Thursday, Apr. 16, 2020

3:30 pm - 4:30 pm

FREE
Register Now

Monday, Apr. 20, 2020

10:00 am - 11:00 am

FREE
Register Now

Thursday, Apr. 23, 2020

3:30 pm - 4:30 pm

FREE
Register Now

Monday, Apr. 27, 2020

10:00 am - 11:00 am

FREE
Register Now

Thursday, Apr. 30, 2020

3:30 pm - 4:30 pm

FREE
Register Now

Monday, May. 4, 2020

10:00 am - 11:00 am

FREE
Register Now

Monday, May. 4, 2020

10:00 am - 11:00 am

FREE
Register Now

Thursday, May. 7, 2020

3:30 pm - 4:30 pm

FREE
Register Now

Monday, May. 11, 2020

10:00 am - 11:00 am

FREE
Register Now

Thursday, May. 14, 2020

3:30 pm - 4:30 pm

FREE
Register Now

Monday, May. 18, 2020

10:00 am - 11:00 am

FREE
Register Now

Thursday, May. 21, 2020

3:30 pm - 4:30 pm

FREE
Register Now

Thursday, May. 28, 2020

3:30 pm - 4:30 pm

FREE
Register Now

Monday, Jun. 1, 2020

10:00 am - 11:00 am

FREE
Register Now

Thursday, Jun. 4, 2020

3:30 pm - 4:30 pm

FREE
Register Now

Monday, Jun. 8, 2020

10:00 am - 11:00 am

FREE
Register Now

Thursday, Jun. 11, 2020

3:30 pm - 4:30 pm

FREE
Register Now

Monday, Jun. 15, 2020

10:00 am - 11:00 am

FREE
Register Now

Thursday, Jun. 18, 2020

3:30 pm - 4:30 pm

FREE
Register Now

Monday, Jun. 22, 2020

10:00 am - 11:00 am

FREE
Register Now

Thursday, Jun. 25, 2020

3:30 pm - 4:30 pm

FREE
Register Now

Monday, Jun. 29, 2020

10:00 am - 11:00 am

FREE
Register Now