Sister Will You Help Me: Breast Cancer Support
---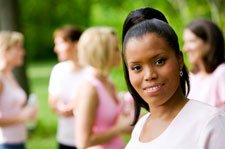 Sister Will You Help Me is a support group that evolved from expressed community needs. In 1999 and 2000, focus groups of minority breast cancer survivors that met at Cooper University Hospital noted that there was a lack of support groups in the area for women of color diagnosed with breast cancer. As a woman, a minority, and a nurse, Dianne Hyman, RN, BSN, felt led to fill that void.
~~~

After much prayer, Sister Will You Help Me was formed in 2001 and has grown into a dynamic group of women. Meeting monthly, the atmosphere is one in which the survivors are encouraged to open up and share their experiences with other women as they celebrate life and receive education on topics of interest. The women range from newly diagnosed to twenty plus years of survivorship. This gives this group a vast cancer experience. Some come alone while others bring along their own support person.

The foundation of the group is prayer and our message is one of hope - and that early detection and screening really does save lives.

Our mission: To empower through knowledge, Encourage through sisterhood, Enlighten through faith, To Bond through love.
Welcome to our website and embrace your journey.
Upcoming Sessions
---
Willingboro Public Library
220 Willingboro Parkway
,
Willingboro
,
NJ
08046
Thursday, Feb. 6, 2020

6:00 pm - 7:30 pm

FREE

Thursday, Mar. 5, 2020

6:00 pm - 7:30 pm

FREE

Thursday, Jun. 4, 2020

6:00 pm - 7:30 pm

FREE

Thursday, Sep. 3, 2020

6:00 pm - 7:30 pm

FREE

Thursday, Oct. 1, 2020

6:00 pm - 7:30 pm

FREE

Thursday, Nov. 5, 2020

6:00 pm - 7:30 pm

FREE

Thursday, Dec. 3, 2020

6:00 pm - 7:30 pm

FREE
---
Cooper University Hospital, One Cooper Plaza, 1st Floor
,
Camden
,
NJ
08103
Thursday, Feb. 13, 2020

6:00 pm - 7:30 pm

FREE

Thursday, Mar. 12, 2020

6:00 pm - 7:30 pm

FREE

Thursday, Apr. 9, 2020

6:00 pm - 7:30 pm

FREE

Thursday, May. 14, 2020

6:00 pm - 7:30 pm

FREE

Thursday, Jun. 11, 2020

6:00 pm - 7:30 pm

FREE

Thursday, Sep. 10, 2020

6:00 pm - 7:30 pm

FREE

Thursday, Oct. 8, 2020

6:00 pm - 7:30 pm

FREE

Thursday, Nov. 12, 2020

6:00 pm - 7:30 pm

FREE

Thursday, Dec. 10, 2020

6:00 pm - 7:30 pm

FREE
---
Willingboro 218 C Sunset Road
218 C Sunset Road
,
Willingboro
,
NJ
08046
Thursday, Apr. 2, 2020

6:00 pm - 7:30 pm

FREE

Thursday, May. 7, 2020

6:00 pm - 7:30 pm

FREE