The Management of Bunions and Hammertoes: A Pathway to Pain-Free Feet
---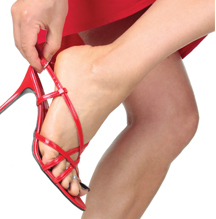 PLEASE NOTE THE DATE HAS CHANGED TO THURSDAY, OCTOBER 17, 2019.
Join Kimberly Hurley, DPM, for an educational session and surgical demonstration focusing on female foot issues. Dr. Hurley is an attending podiatrist with the Cooper Bone and Joint Institute. She is board certified in foot and ankle surgery and has a special clinical interest in surgical management of foot and ankle disorders including bunions, flat feet, sports injuries, fracture care, and management of arthritic conditions.
Please note: To promote an open discussion about sensitive women's health topics, all educational programs and support groups held at The Ripa Center are limited to women only.
Upcoming Sessions
---
There are currently no upcoming sessions for this event