Osteoporosis Program: Strengthen the Bone Extended Exercise Program
---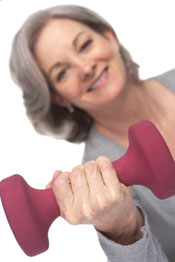 A full body, muscular conditioning workout filled with resistance exercises that strengthen and tone with little impact on your joints. Targeting abs, back, hips, thighs, and more using various methods and equipment to enhance, firm, and empower your overall well-being!
This exercise program is an extension to the Strengthen the Bone course and is only available to those who have participated in the Strengthen the Bone course.
Classes are offered three times per week in Voorhees and you can register for one, two or all three sessions to best fit your schedule.
Classes are held:
Monday morning from 9:30am - 10:30am
Wednesday morning from 8:30am - 9:30am
6 registrants minimum for class to be held.
Upcoming Sessions
---
There are currently no upcoming sessions for this event