Look Good Feel Better
---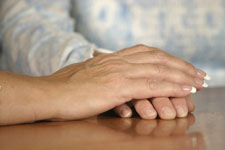 This is a free program offered by the American Cancer Society and hosted by MD Anderson Cancer Center at Cooper to help women undergoing cancer treatment learn to cope with the appearance-related side effects of treatment and regain a sense of self-confidence.
The Look Good Feel Better group workshop is a two-hour, hands-on workshop which includes:
· A detailed description and demonstration of the 12-step skin care and makeup program.
· Instruction on options relating to hair loss, including wigs (types/care), turbans, and scarves; and nail care.
· Helpful suggestions on clothing and ways to use flattering colors and shapes, as well as ways to camouflage areas of concern during cancer treatment.
Each participant receives a free kit of cosmetics to use during the program and at home.
For more information about this program, please visit www.lookgoodfeelbetter.org.
To register for a workshop and reserve your free cosmetic kit, you are required to contact the American Cancer Society at: 1.800.ACS.2345.
Upcoming Sessions
---
There are currently no upcoming sessions for this event