Breastfeeding Support Group
---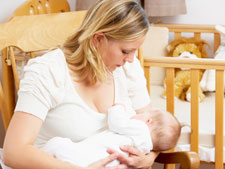 Join other breastfeeding mothers for fellowship and support at this informal meeting. A board-certified lactation consultant and nurse will also be on-hand to offer advice, answer questions, and weigh your baby.
Preregistration is required.
Instructions for Registrants:
Please arrive 15 minutes prior to the posted start time for your class.
If your class is being held at One Cooper Plaza in Camden, please check in at the welcome desk in the Roberts Pavilion lobby for directions. Parking is available in the attached garage in addition to free valet service located in front of the lobby entrance.
Parking passes are provided for classes held in Camden, NJ.
This class is for mothers who have delivered and need support while breastfeeding.
Bring your baby!
Upcoming Sessions
---
Tuesday, Nov. 26, 2019

2:00 pm - 3:00 pm

FREE
---
Tuesday, Dec. 3, 2019

5:00 pm - 6:00 pm

FREE
---
Tuesday, Dec. 17, 2019

5:00 pm - 6:00 pm

FREE