Breastfeeding Support Group
---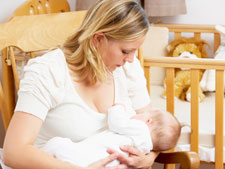 Join other breastfeeding mothers for fellowship and support at this informal meeting. A board-certified lactation consultant and nurse will also be on-hand to offer advice, answer questions, and weigh your baby.
Preregistration is required.
Instructions for Registrants:
Please arrive 15 minutes prior to the posted start time for your class..
This class is for mothers who have delivered and need support while breastfeeding.
Bring your baby!
Bring your breast pump if you need assistance with expressing.
Upcoming Sessions
---
There are currently no upcoming sessions for this event