Childbirth Preparation Series - Live Online
---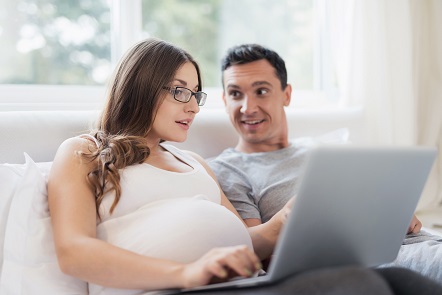 The Cooper Team is honored to be a part of this new chapter in your life. We look forward to supporting you and your family throughout your pregnancy, labor and delivery, and beyond. Our childbirth preparation webinar series is designed to provide you with a better understanding of the labor and delivery process, help you feel more confident in caring for your new baby, introduce breastfeeding techniques, and more!
Cooper obstetricians recommend registering for this webinar series during the third trimester of pregnancy. Our series of online classes, viewed from the comfort of your home, will help you understand the labor and delivery process, post-partum stay, infant feeding, and infant care.
You only register once for the start date of September 6, 2020, for the four online classes.
The $50 one-time fee includes:
Sunday, September 6, 2020, from 1 p.m. to 2:30 p.m.: BREASTFEEDING - Benefits of breastfeeding and breastmilk, early latching, baby transition after delivery, infant sleep and awake states, feeding cues, methods of latching, hand expression, breast pumps, and lactation assistance after delivery.
Monday, September 14, 2020, from 5:30 p.m. to 7 p.m.: LABOR - The stages of labor, laboring process, comfort measures, importance and process of skin-to-skin contact after delivery, roles of those caring for you during labor, policies regarding support and visitation, and safety and security.
Saturday, September 19, 2020, from 10 a.m. to 11:30 a.m.: POSTPARTUM - Caring of safety and security, visitation, length of stay, comfort measures and pain control, caring for yourself and your baby, postpartum depression, rooming-in, and accessing assistance after discharge.
Sunday, September 20, 2020, from 1 p.m. to 2:30 p.m.: INFANT CARE - Post-delivery weights and measurements, infant feeding cues, breast and formula feeding, bathing, diaper care, burping, swaddling and dressing, crying, car seats, pediatricians, circumcision, and infant blood work.
Preregistration is required. You must register and provide your email address to be able to view these WebEx webinars. Directions and a passcode for opening the WebEx meeting will be sent to the email address you provide.
This series of classes should be taken by the third trimester of pregnancy.
This series of classes is for parents and anyone who will support them during and after the delivery of their baby.
The cost for this four-part series is $50 payable by credit card.
Upcoming Sessions
---