The Road to Breast Health Equity
---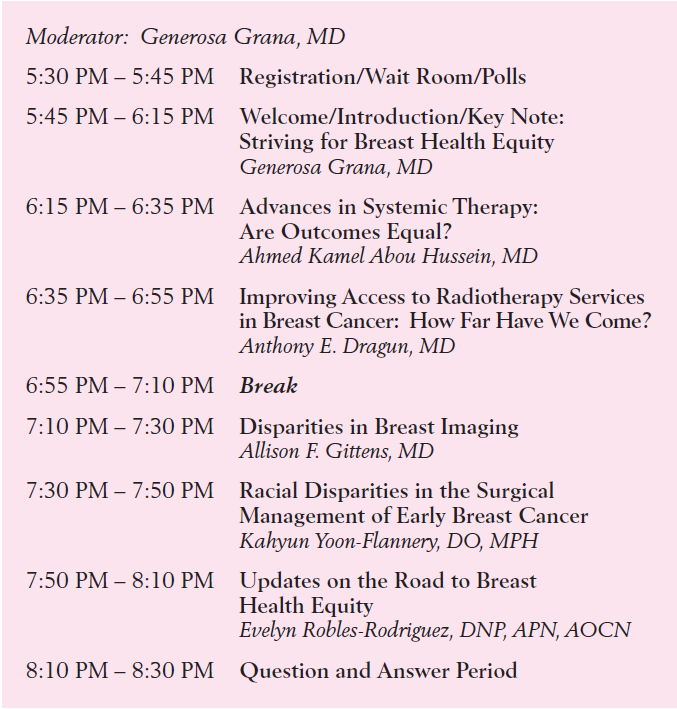 Intended Audience:
The intended audience for this conference includes primary care physicians, obstetricians, gynecologists, medical oncologists, surgical oncologists, and radiation oncologists. Residents, fellows, physician assistants, advanced practice nurses, genetics professionals, tumor registrars, and other allied health professionals with an educational need or interest in this topic may also attend.
Overall Learner Objectives:
Describe current disparities in breast cancer care among black women.
Understand the barriers to breast cancer care prevalent among black women.
Discuss steps necessary to improve breast health equity among black women.
Understand steps necessary to address social determinants of health.
Participation via WebEx
You may join using Webex if you have a smart phone, computer, or landline phone. Once your registration is received, and by the day of the event, we will e-mail instructions and a passcode to the address you provide below so you can access this CME activity.
Upcoming Sessions
---
Webinar
,
Online
,
See event
for details.
Wednesday, Oct. 12, 2022

5:30 pm - 8:30 pm

FREE
Register Now