Debunking The Myths and Misconceptions of Supplement Usage Among Cancer Survivors
---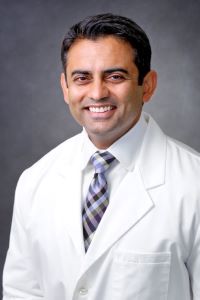 Studies show that many cancer patients initiate dietary supplement use after a cancer diagnosis. By seeking ways to improve overall health, many believe that supplements can boost their immune system, increase nutrients, and add years to their life. The internet is filled with information, but this may leave you with many more questions.
Please join our MD Anderson Cancer Center at Cooper expert Dr. Pallav Mehta as he discusses the truth around supplement usage and debunks the myths and misconceptions.
This free online discussion will address the following:
Can supplements prevent or cure certain diseases?
Are supplements safe and approved by the FDA?
Are single-source supplements better than a multivitamin combination?
Since supplements are natural, they must be good for you, right?
Are there risks in taking too many supplements?
This one-hour presentation will include a Q & A session. We look forward to you participating in this lively informal discussion sponsored by the Wellness After Cancer Survivorship program at MD Anderson Cancer Center at Cooper
Registration is required. (Click REGISTER NOW below.)
Meeting Access Link: https://cooper.webex.com/cooper/j.php?MTID=m734b4d7f4ccde20bb53d4db39426c792
Or Join by Phone: 646-992-2010
Access Code: 2315 020 9238
You can join the webinar by computer, laptop, tablet, smartphone, or landline phone.
Pallav Mehta, MD is a Hematologist/Medical Oncologist and Director of Integrative Oncology at MD Anderson at Cooper. He is also an Assistant Professor of Medicine at Cooper Medical School of Rowan University. Dr. Mehta received his medical degree from Jefferson Medical College, completed his internship and residency at Temple University Hospital, and his fellowship in Hematology/Oncology at Fox Chase Cancer Center. Dr. Mehta cares for patients with breast cancer and also specializes in Integrative Medicine.
About the Wellness After Cancer Survivorship Program at MD Anderson Cancer Center at Cooper:
At MD Anderson at Cooper, a patient is considered a survivor the moment they are diagnosed with cancer, and our team is dedicated to helping survivors live their lives to the fullest throughout their cancer journey. Our Wellness After Cancer Survivorship Program addresses the physical, psychological, and educational needs of patients who have completed treatment. It also focuses on identifying, preventing, and controlling any long-term and late effects associated with cancer and its treatment. In addition, the Wellness After Cancer Survivorship program is designed to monitor patients for signs of cancer recurrence. Click here to learn more about our Wellness After Cancer Survivorship Program and the many resources available to you.
Upcoming Sessions
---
There are currently no upcoming sessions for this event