"Peace of Mind": An ESPN Documentary Screening
---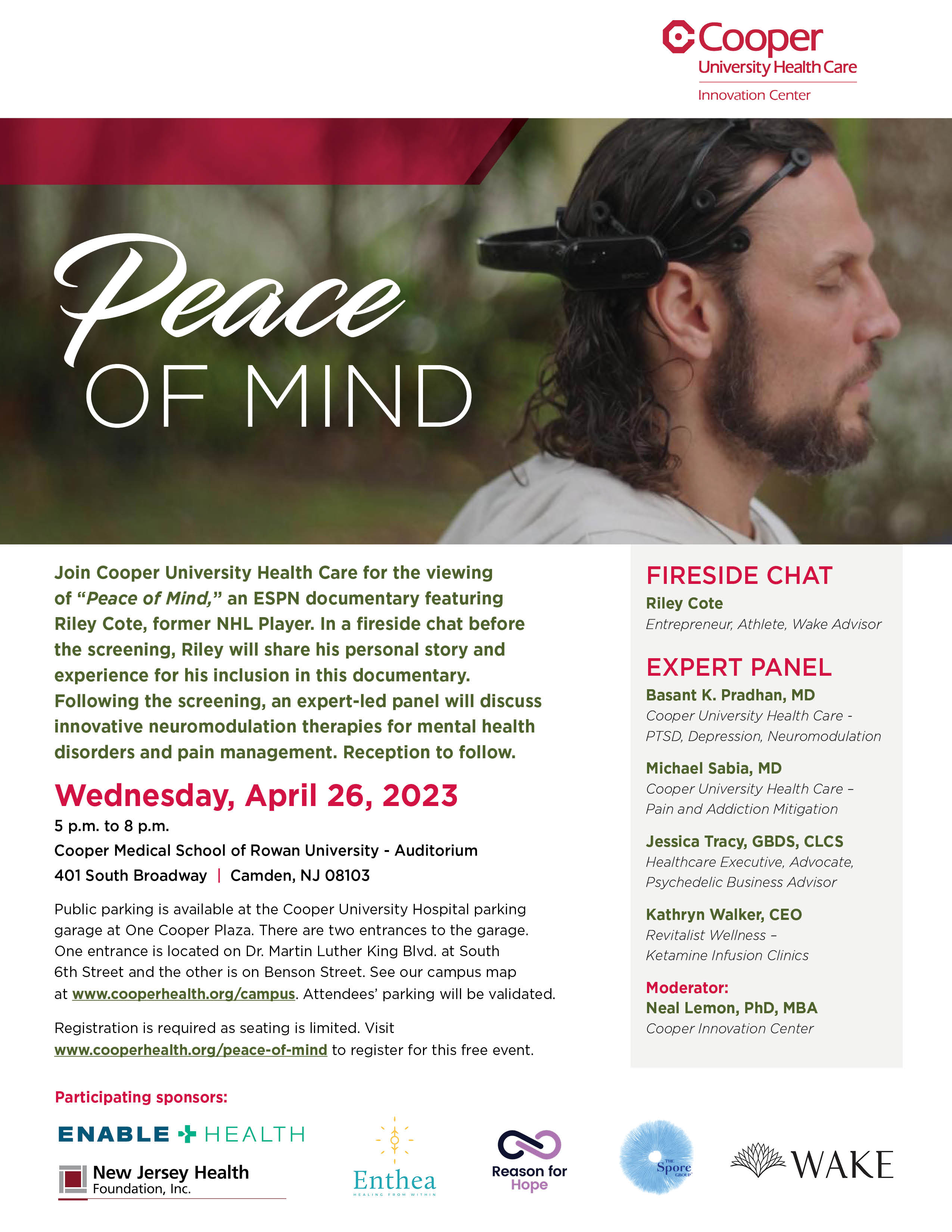 Join Cooper University Health Care for the viewing of "Peace of Mind," an ESPN documentary featuring Riley Cote, former NHL Player. In a fireside chat before the screening, Riley will share his personal story and experience for his inclusion in this documentary. Following the screening, an expert-led panel will discuss innovative neuromodulation therapies for mental health disorders and pain management. Reception to follow.
Public parking is available at the parking garage located immediately adjacent to Cooper University Hospital. There are two entrances to the garage. One entrance is located on Dr. Martin Luther King Blvd. at South 6th Street and the other is on Benson Street. Attendees' parking will be validated.
Registration is required as seating is limited
FIRESIDE CHAT
Riley Cote
Entrepreneur, Athlete, Wake Advisor
EXPERT PANEL
Basant K. Pradhan, MD
Cooper University Health Care -
PTSD, Depression, Neuromodulation
Michael Sabia, MD
Cooper University Health Care –
Pain and Addiction Mitigation
Jessica Tracy, GBDS, CLCS
Healthcare Executive, Advocate,
Psychadelic Business Adviser
Kathryn Walker, CEO
Revitalist Wellness –
Ketamine Infusion Clinics
MODERATOR
Neal Lemon, PhD, MBA
Cooper Innovation Center
SPONSORS
Reason for Hope
The Spore Group
Wake
New Jersey Health Foundation, Inc.
Upcoming Sessions
---
There are currently no upcoming sessions for this event