Low Back Pain: Evidence-Based Care
---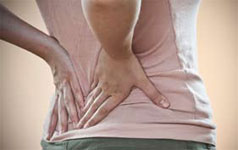 "Low Back Pain: Evidence-Based Care" will provide attendees with an understanding of the lumbar degenerative conditions that cause problems at each stage of life. You will be able to describe the natural history of degenerative conditions of the lumbar spine and determine the evidence-based treatments that best manage the degenerative conditions at each stage of life.
The intended audience for this conference includes primary care physicians. Residents, fellows, physician assistants, advanced practice nurses, nurses, and other physicians with an educational need or interest in this topic may
also attend.
Registration is required. Space is limited, so registrations will be accepted on a first-come, first-served basis. No registrations by telephone will be accepted.
Upcoming Sessions
---
There are currently no upcoming sessions for this event