Tai Chi for Health
---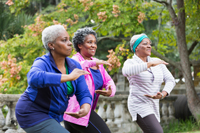 "A Moving Meditation" - slow, gentle movements with awareness while breathing deeply.
The $100 registration fee includes 12 classes to be taken consecutively for maximum benefit. Select the week that you want to start your 12-week session.
Click here for directions to The Ripa Center for Women's Health and Wellness.
Upcoming Sessions
---
There are currently no upcoming sessions for this event